Helping find balance for farming success
Fonterra Communications. 12 May 2022 01:43 AM
A search for staff to improve their work-life balance has reaped excellent returns for Terang farmers Ged and Glenice Justin.
After investing in a new dairy six years ago, the fifth-generation farmers needed help with the staffing element of their plan.
"We wanted to grow the herd, increase production and make things easier for us; so it was time to find full-time staff, rather than relief milkers," recalls Ged.
Recognising that employment procedures was a subject where they had little expertise, the Justins turned to Farm Source People Specialist Jozzy Bevin for advice.
"Our initial conversations with Ged and Glenice were around workload. Their three children live interstate, so they weren't getting time away. 
"They initially had concerns about the whole employment piece and didn't know how to go about it," says Jozzy.
Those discussions led to a casual employee joining, eventually transitioning to full-time. Four years later, the Justins have two full-time employees and another part-timer, leading to the upturn in production and work-life balance they were chasing.
"The herd has increased from 240 to 320, production is up 40 per cent, and we're now able to enjoy some time away from the farm," says Ged.
"We've seen other benefits as well. It's made it easier to get our harvest done, put a lot more summer crop in and get our young stock looked after. 
"Everything's just been a lot smoother, and we have more milk in the vat, which makes the bottom line a lot better."
In addition to helping with the employment side, Ged worked with Farm Source Profit Specialist Andrew Martin.
"As well as a cashflow review of the business to check that an additional staff member was viable, part of the discussion of adding staff was around accommodation. 
"After exploring different scenarios, we supported the option for Ged and Glenice to invest in an off-farm property. This has helped add a valuable staff member at a time when the industry is experiencing challenges due to the shortage of labour, and allowed Ged and Glenice to diversify their portfolio," says Andrew.
Ged believes Farm Source has been invaluable in helping the farm transition to the new direction.
"Without the help of the Farm Source team, we probably wouldn't have got there. We'd be still on our own. 
"It's taken some pressure off me, given us a much better lifestyle as we're milking at better hours, and our day-to-day routine's much smoother.
"We like the security having full-time staff has provided. Hopefully, we'll be able to step back even further, give them more responsibility and still be relatively hands-on for a good while yet," says Ged.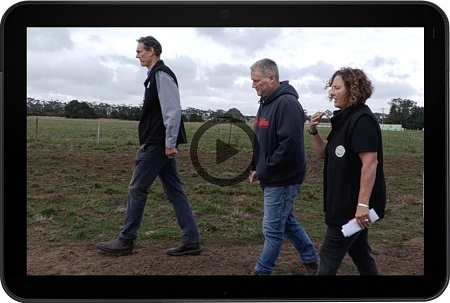 Click to watch the video